Why Accounting & CRM go naturally together
With over one hundred Act! add-ons in our inventory, many might ask why we wanted to acquire QsalesData recently, an add-on that integrated QuickBooks and Act!. The reason is this we believe that accounting and CRM are meant to be intertwined together, and a product like Qsales provides a much fuller picture of contacts as customers.
Understand your contacts as customers
Having access to a contact within a CRM application without visibility on their transaction history gives you little or no insights on them as a "customer". For instance, what's their lifetime business value? How frequently do they purchase or pay? Or even if they are a credit risk? All these questions go into better understanding a contact as a customer, yet few CRM's provide that level of detail.
Most CRM's will show communication histories between your company and the contact, including times you've quoted them products or services, but they will seldom reveal the full transaction history. And that full history not only completes the picture, it must be visible to everyone on your team to be useful.
Imagine a customer calling into one of our customer care reps complaining about an interruption in their service, and that rep not knowing the customer had been cut off for non-payment? Or a technical support rep trying to solve their issues without knowing the account had declined their renewal? In our world, "context is king", and you cannot fully manage a customer's account without full details on their transaction history, and Qsales for Act! provides that.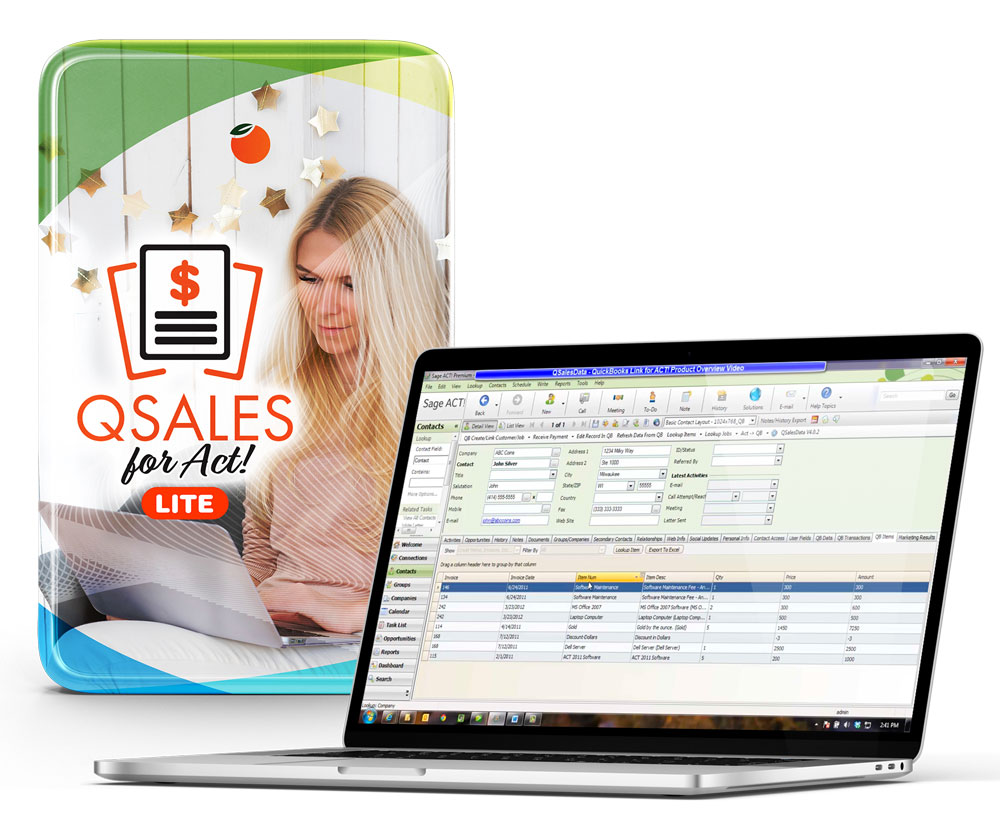 Reduce the barrier to entry to CRM
Another reason Qsales appealed to us as a product was it can help bring people to CRM. Too often small businesses of 1-5 users rely heavily on QuickBooks to be more than an accounting program. They use it for quoting, scheduling, correspondence, you name it. The trouble with this practice is it clutters the accounting file with prospects you may never do business with, has no pipeline management or marketing capability, and in general it performs non-accounting functions poorly. Qsales can help bridge that gap by creating a CRM database directly from their QuickBooks accounting file, and then linking all the contacts with their transaction history in one step.
Recently during a demo I created a blank Act! database and used Qsales to migrate 6600 customers over to that database, complete with all their contact information (company & contact name, email, and mailing address), and then imported & linked all their transaction history. In less than an hour, I had created an Act! database rich with contact & customer details that I could start using on day one. This level of integration not only leads to higher and faster user adoption with your team, it reduces the barrier to entry and implementation time most businesses face when considering a CRM.
Add to that Qsales powerful quoting tools, overdue alerts, mobile access with Handheld Contact integration, and the ability to convert closed Opportunities to invoices, and you have a happier, more efficient, and productive sales team
It saves you time and money
The final reason is simple. Integrating your CRM and accounting saves you time and money. QuickBooks generally costs between $40-60 per month depending on the package you select, whereas adding Qsales for Act! to your business costs a little more than $13 per user in the first year, and $4 per user each year after that. If you can save the cost of just one QuickBooks license, it would pay to implement Qsales for most of your team in the second year, without really denying them access to the accounting data they previously had.
The human cost savings is also real. In our company sales and support would ask the admin team on a daily basis questions relating to sales reporting, customer payment status, or even if a client had renewed their service. Since we deployed Qsales internally, those daily inquiries have disappeared, meaning all parties have more time to do their actual jobs, and they can act on accurate accounting information faster. Even our remote users with subscriber databases have full access to a client's transaction history, including invoices, payments, sales receipts, credit memos, you name it. Our sales people can even use Qsales to calculate their sales and commissions with accuracy never previously imagined, and yes, all within Act!.
Summary
By anyone's estimate, accounting details complete the picture of any contact in a CRM. By integrating them together a business can reduce their barrier to entry for CRM, deliver more useful and complete information to their team, increase user adoption of the CRM, and reduce their overall software cost and labour overhead. And Qsales for Act! delivers on all these fronts, which is why we're so excited to acquire this time-tested product, and why we're so committed to its continued improvement like we did recently with version 12.2.
If you'd like to learn more about Qsales for Act!, and how it can help deliver a richer Act! experience for your team, click HERE.