Qsales v13 scheduled for release November 11th
After several months of extensive development, we're pleased to announce that Qsales v13 will be released tomorrow on Thursday, November 11th, 2021. So much about this new version of Qsales is different from past versions, including how it connects to the QuickBooks data, and how it can save our customers money on their QuickBooks licensing.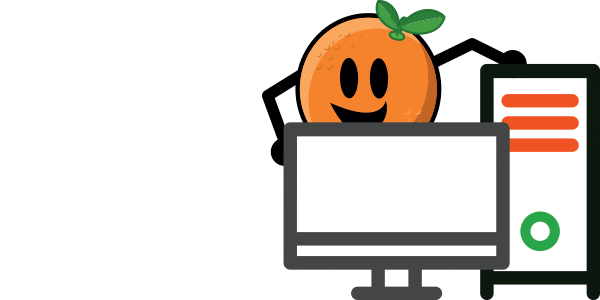 Here's a list of fast facts on the new features of Qsales v13:
Users no longer need QuickBooks locally installed or open due to the new Qsales Web API
Create or Edit QuickBooks transactions from within Act!
Create or Edit QuickBooks Customers or Vendors from within Act!
Link transactions to Contacts & Companies in Act!
Line items or products in transactions are stored as their own custom table for better performance & searching
New integrated reporting feature gives users vital customer insights from within Act!
Will be Act! v24 (64-bit) compatible, as well as supporting back to Act! v19.2.
Enhanced Qsales functionality for remote users with RDB's.
Only one QuickBooks license needed for all Act! users, potentially saving customers hundreds, even thousands annually
Qsales v13 will be sold as a subscription instead of a capital cost, plus M&S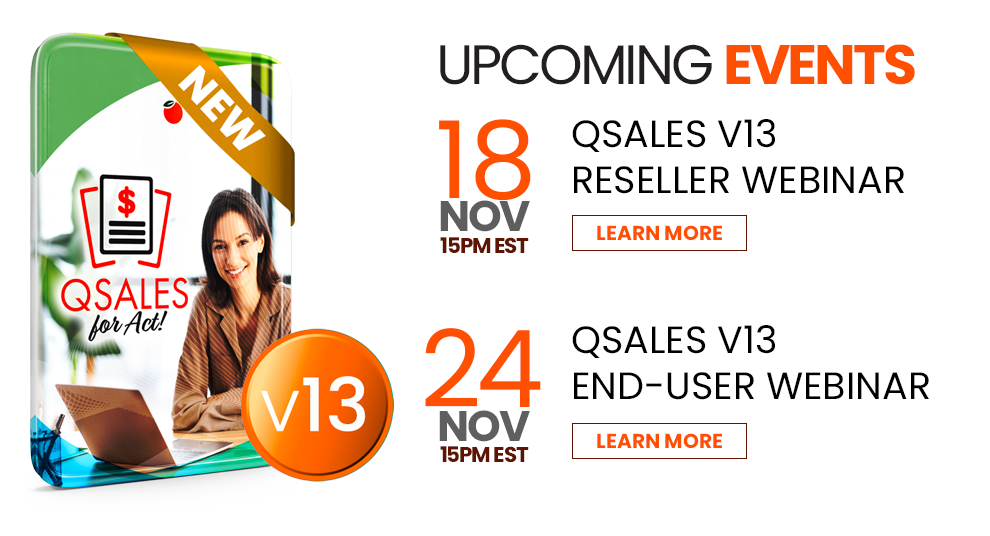 No need to install QuickBooks everywhere
Traditionally QSales connected to QuickBooks locally on each workstation, requiring a license of QuickBooks for each user that wanted all the Qsales integration features like creating and editing transactions. Our new version approaches things differently. This new Act plugin connects to the QuickBooks data through our new "QSales Web API Address", which allows all Act users to share the same Quickbooks connection, meaning QuickBooks no longer needs to be installed or opened on the end-users workstations.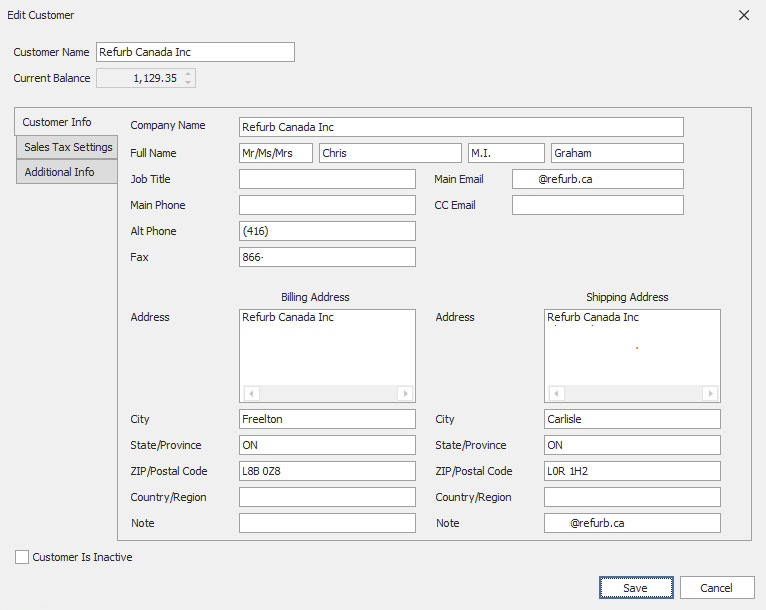 The advantage of this approach is simple - only one Quickbooks license is needed for all Act! users to enjoy full-functioning QuickBooks integration inside of Act!. This can mean thousands of dollars in saved QuickBooks licensing annually, while limiting direct QuickBooks access to only the users who require advanced QB functions. The result is improved security and decreased costs for your team.
Make QuickBooks changes from inside Act!
With Qsale v13, basic customer information can now be edited from within Act (see image above - click to enlarge), as well as transactional data. For instance, Act users with Qsales v13 can create & edit invoices, sales receipts, and other transactions right from within Act! (see image below - click to enlarge). We also added support for linking transaction data at the company level in Act!, as well, allowing users to more intuitively find transaction details for the company, and not just the primary contact of that company - which we all know can change over time.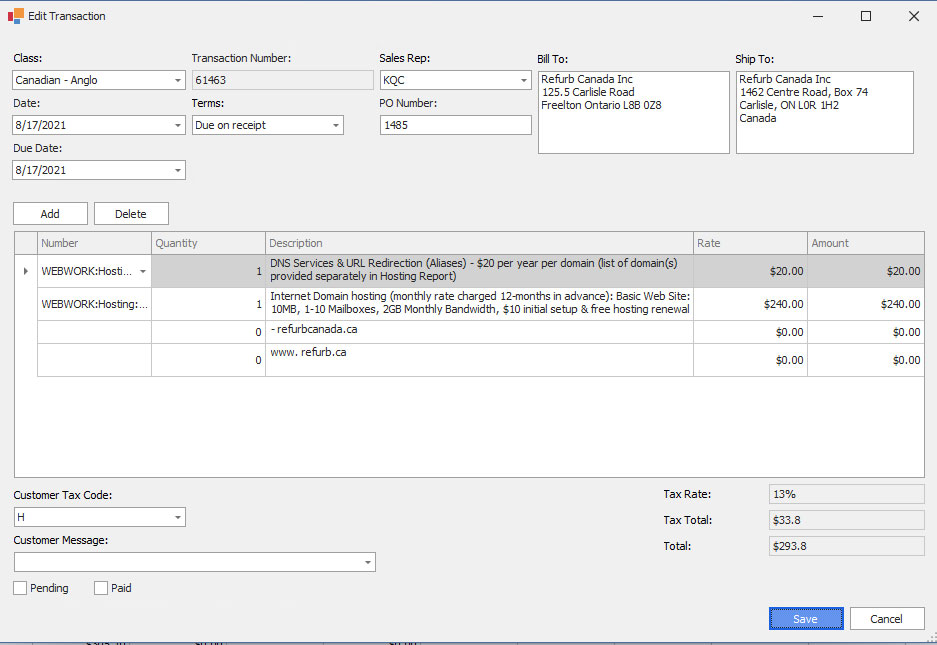 Qsales v13 also adds a separate custom table for the line items inside a transaction (see image directly above - click to enlarge). Whether these be services or products, having a dedicated custom table for these entities will improve performance and search speed. As past versions of Qsales stored this line item data inside memo fields, existing users looking to upgrade to Qsales v13 will need to upgrade all machines to v13, and update their version of Qsync since the older data is formatted differently and is incompatible with v13.
Qsync Improvements
The nightly QSync service has also been updated to use the new QSales API, which fixes a lot of QB connection issues with the previous sync service. With the addition of the API, and refactoring of the sync code to a single code base, QSales and QSync should now more reliably check for existing transaction records and update as needed, rather than creating duplicates.
Qsales Reporting
One of the crucial parts of any accounting program is the ability to report on the data. By reducing the QuickBooks licensing need with our new Qsales v13, we realized that customers would enjoy having some reporting capabilities inside of Act!, and so we delivered that with Qsales. The new reports feature is now available from the Qsales toolbar, and provides you quick access to Top customer reports for current and prior year, top customers by lifetime sales, as well as a number of useful collection reports. You can even run product reports to see the top-selling products by revenue and quantity sold.
The sales managers will love running Sales Rep reports by week, month, or year, with the option to change the runtime date range on the fly as their needs dictate. Bottom line is, Qsales provides both the data visibility and the insights to help you run your business smarter.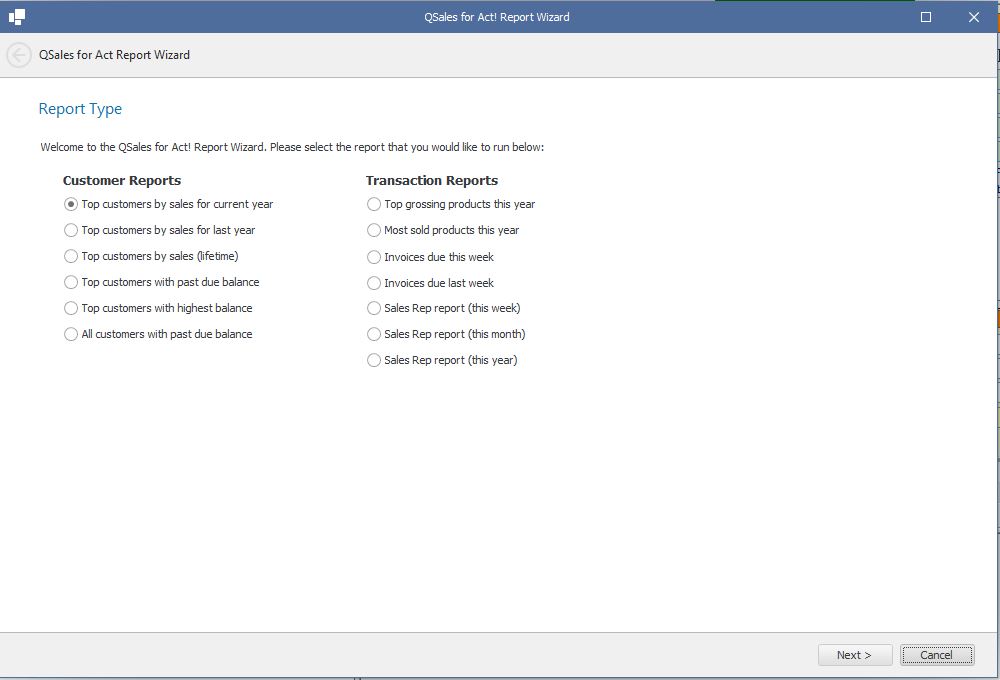 Act! v24 (64-bit compatibility)
With the QuickBooks SDK being 32-bit, integration with Act! v24 would be challenging. To get around this problem, we created a 64-bit Qsales API. The QsaIes API works as a shim, allowing the 64-bit Act! plugin to work with the Qsales API, which in turn works with the 32-bit SDK of QB.
Existing Qsales Customers
Qsales v13 is not simply a complete rewrite of prior versions, it substantially changes the structure of the data being imported into Act!. As such, existing Qsales customers will have to complete purge their past transactional data and run a complete sync of all the data again. Customers will also need to find a Windows Professional or Server based operating system to install the Qsales API. Like most API's of it's kind, the operating system must support Internet Information Service (IIS) to publish the API. Windows Home operating systems don't have this.
Stay tuned for more updates on Qsales, as we hope to release a QuickBooks online version by the end of the year. Join us on November 24th for our Deep Dive Webinar on these exciting new Qsales v13 features.
Related News: