Qsales v13 will be launched as a subscription product next month
As we approach the release of Qsales v13 (expected in early November 2021), we have to acknowledge a few lessons we've learned during this process.
The first is this project evolved into a much larger undertaking than we initially imagined. With the QuickBooks SDK being 32-bit, making Qsales compatible with the new 64-bit version of Act! required us to change everything about how Act! and QuickBooks talked to each other, which in turn led us to rewrite over 85% of the program.
Qsales v13 is not only faster and more feature-rich than before, it will also save most customers on their QuickBooks licensing. The new Qsales API requires only one QuickBooks user account, and it will support creating QuickBooks transactions from within Act!. What's more, our new Link2cloud service allows remote Act! users to connect to their office QuickBooks, and get updates instantly.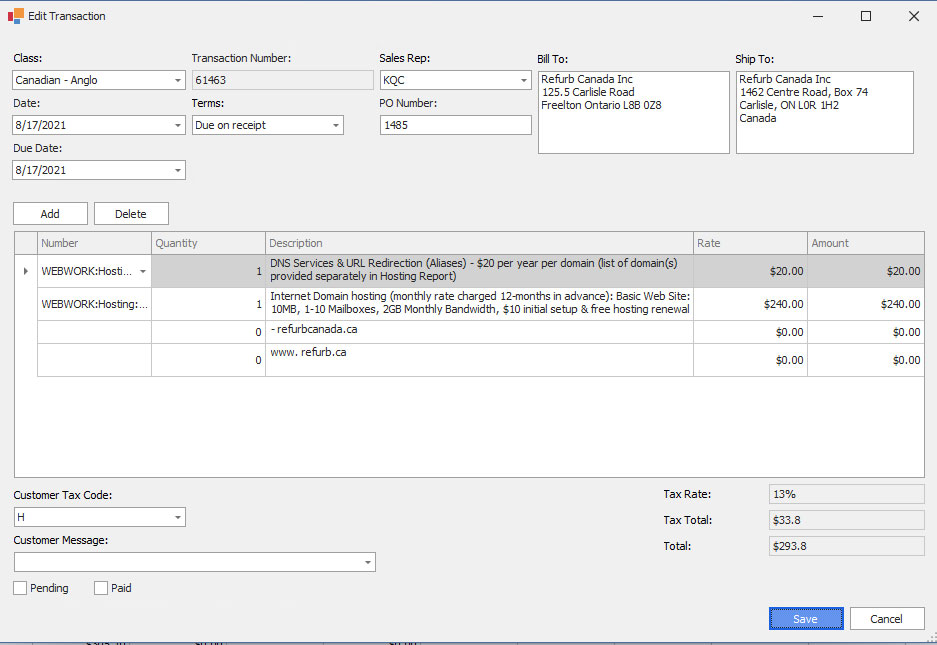 In short, this is not the Qsales you knew.
The second acknowledgment is that the only constant in the software world is change. And if we're to continue to innovate in an ever-changing software environment, and deliver updates with services like Link2cloud & the Qsales API, we cannot do so by selling perpetual licenses anymore. It has to be a subscription service.
Yes, Qsales has historically been sold as a perpetual license for $159.95 (with Maintenance & Support available at $48 annually per user as an optional plan for customers). Still, this commercial model afforded little re-investment in the product, and as a result, few significant program changes were introduced in the past decade.
As we look ahead to the release of Qsales v13 and later a version compatible with QuickBooks Online before the end of this year, we've concluded that a commercial change to a subscription model is necessary. After all, if the software we integrate with, namely Act! and QuickBooks, are sold by subscription, and both change each year, it only makes sense to deliver the integration by subscription, as well.
To that end, Keystroke plans to launch Qsales v13 strictly as a subscription product for only $99.95 per activation, per year for new customers. Existing customers already on an active M&S plan will be converted to subscription, as well, but grandfathered in at half the regular subscription rate of $50 per year, per activation. This grandfathered rate, which is only $2 more than what they're paying now for M&S, will remain available for as long as their account remains active.
So to recap, these are the changes being introduced:
Qsales v13 will be launched next month as a subscription product for $99.95 per year, per activation.
Existing Qsales customers on an active M&S plan will be grandfathered in at $50 per year, per activation.
Qsales v12.2 will cease to be sold after the release of v13, but past customers on an active M&S plan can continue to use it for as long as they wish, but additional licenses will not be available after next month (existing Qsales M&S customers will have until the end of November 2021 to purchase additional seats of 12.x)
The Link2cloud service, which connects remote Act! users to the office QuickBooks through the Qsales API, will be available to subscription customers at no additional charge (more will be explained on this service in a separate blog).
Qsales v13 introduces a new Qsales API that will require only one dedicated QuickBooks account to cover ALL Act! users with Qsales. This new API integration will save most QuickBooks customers between $450-$850 per year, per user, while delivering enhanced data access to more Act! users. Internally, this saved us $3600 per year in QuickBooks licensing, so this was huge.
Qsales v13 will NOT require QuickBooks to be open, and Qsales users will not need access to the company's accounting program to create or view transactions.
Qsales v13 will be compatible with the desktop versions of Act! v24 - both Pro and Premium, as well as all Act! versions back to 19.2, and QuickBooks v17 or later.
Qsales is like no other CRM-accounting integration product that we've seen. The way it pulls in all past transactions into Act!, allowing unprecedented data access for its users on a contact, company, or even a global level is unparalleled. Features such as overdue alerts, custom table enhancements, and quoting have been added to the program to round out the experience for our customers.
We're confident users will love the increased performance, features, and savings Qsales v13 delivers for their business, making Act! the perfect CRM for QuickBooks users.